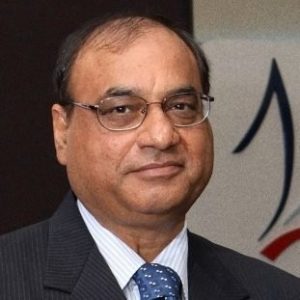 Dr Jai Acharya
Managing Director GMCG PTE LTD (Global Maritime Consultants Group) Singapore
Director International Ocean Institute
(Singapore) – IOI HQ @Malta
Jai is currently working as Managing Director of GMCG PTE LTD at Singapore (a part of
Global Maritime Consultants Group). Jai has been also appointed as an Honorary
Director of International Ocean Institute (IOI-Singapore) since 2012 having HO in Malta.
Jai Acharya has been awarded the Honour of Doctorate (PhD) in Maritime Engineering from Young Scientists University (YSU), Delaware – USA and
received the degree in Master of Science – MSc (Maritime Studies) from NTU
(Singapore) in collaboration with BI (Norway).
A Graduate in Electrical Engineering with Honours from BITS Pilani (India), Top Class Institute of Technology & Science in India, Affiliated with M.I.T (USA) and First Class Marine Engineer, Jai has forty two years of active experience in the Maritime Industry.
Being a proactive ocean and maritime environmental activist, Jai has keen interest in maritime education and training with an emphasis on maritime environmental awareness and protection of ocean environment.
Jai has drafted maritime training course curriculum and syllabus under the guidelines of IMO Model courses for international training institutions globally and have published research papers / articles in maritime journals and newsletters.
A world class well acclaimed book (ISBN Number: 9781138607491) published by Routledge and Chinese University of Hong Kong (CUHK) having research write-up Chapter 9 on "Maritime Logistics" in the Perspective of the BRI Initiative is authored by Jai.
Jai's interest in the area of research in maritime emission assessment and inventory management shows his commitment for the ocean environmental protection and green shipping.
Having sailed aboard varied type of merchant vessels in national and multi-national shipping companies, Jai rose to the rank of Chief Engineer and gathered a wealth of experience in shipboard management and operations.
Jai has obtained the status of Life Fellowship of Institution of Engineers (FIE) and became Chartered Engineer in the vast field of Maritime and Electrical Engineering, which is unique in its own type.
Having deep involvement in Maritime Surveys, Inspections, Audits and Consultancy, Jai had taken overall responsibility to involve and oversee all technical matters in his past and current employments.
Jai has conducted Classification and Statutory Surveys including Ships' Drawings Plan Approval, Damage Assessment, Vessel Grounding and Maritime Environmental Pollution Prevention (MEPP) related incidents survey on behalf of various non-IACS Classification Societies and IMO Flag State Recognized Organizations (RO).
Being a qualified and approved internal & external auditor, Jai has conducted ISM, ISPS Code Compliance and MLC-2006 audits on behalf of Panama Maritime Authority and other Flag States for numerous vessels and shipping companies.
Jai has played a pivotal role in developing ship management and maritime logistics businesses during his career and has been also involved in the sale, purchase and vessel registration.
Jai has gone through specialised training in the operational excellence of FPSOs and relevant consultancy services in maritime & offshore oil & gas industry.
Jai was involved shipbuilding/retrofitting and maritime project management during his early phase of the career. As a project manager in reputed companies in Singapore, he supervised and managed numerous ship repair activities for shipping and offshore industry. Jai achieved the precise understanding of ship building including preparation of detailed plans and supervision of retrofitting and new installations during his tenure.
Jai has also taken charge as an independent third-party consultant in IMO audits for flag states and conducted IMO pre-audit assessments for a few flag states.
Jai has been always proactive in giving back to the nature and Mother Earth by organising awareness programs on Ocean welfare, Celebration of World Ocean Day (08 June), a global event initiated by International Maritime Organization (IMO) and Maritime Environmental Protection awareness drive on-board ships and ashore.
His deep association with International Ocean Institute (www.ioinst.org), working on its vision and mission compliance. He is appointed as an Honorary Director for International Ocean Institute (IOI) – Singapore and has been consistently contributing for the cause of Ocean welfare, Ocean Governance Framework under the United Nations Convention on the Law of Sea (UNCLOS), Blue Economy, Fulfilment of issues raised on global climate change during the international conference of United Nations on Sustainable Development (Rio+20) held on 20-22 June 2012 at Rio de Janeiro, Brazil.
Jai's pro-active involvement in raising the awareness on Prevention of Pollutions in Oceans caused by anthropologic activities, promoting Green Shipping and Maritime Transportation, Climate change of Coastal States by participating in seminars, international conferences as a speaker / jury panelist and sharing knowledge and experience for the betterment of our mother earth and oceans in particular.
As an entrepreneur in past years, Jai has a wide experience of business development in international ship management and maritime consultancy services.